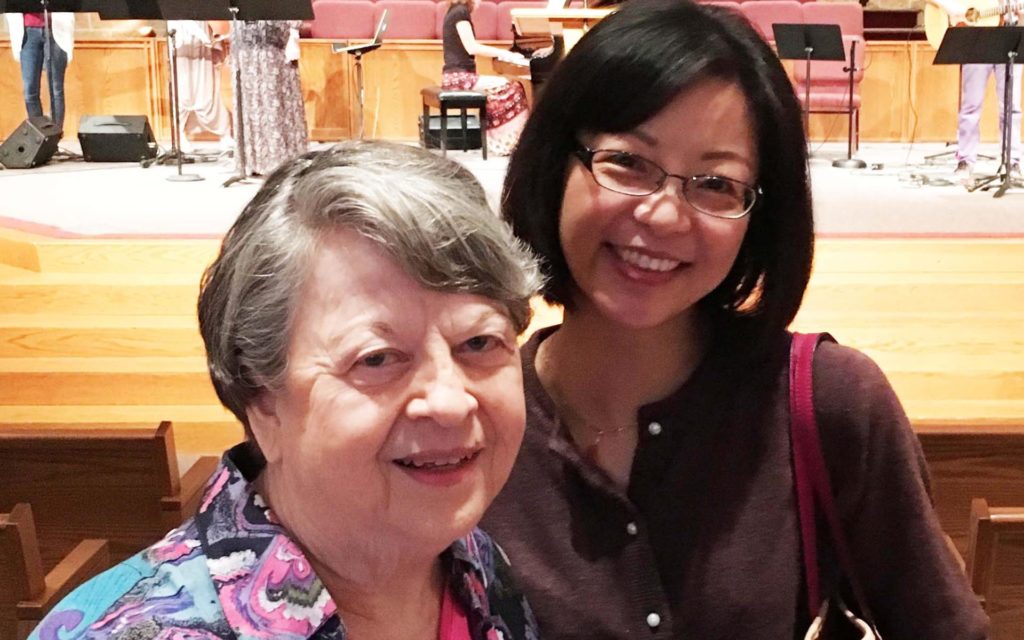 We entered the church and walked down the hall almost at the same time. I said "Hi" and told her I hadn't been here very long and didn't know many people. She said, "I am new, too." So began another relationship in my new city.
 
I was so happy to get to know Lucy and hear her story. We sat together that day, and after the service she asked if she could have a picture taken of both of us. She wanted to send it to her daughter so she would know that she had a friend in Iowa.
 
As we talked that day, I began to understand her desire for friends. An engineer, Lucy came to the States to work for a local company that had transferred her from her home in Asia. She wanted to be close her daughter, who had been attending college in Michigan for the past four years, although she was still nine hours away from her.
 
We decided to have lunch together two weeks later and I heard more of her story. Two years before when she arrived in Iowa, she was hungry for relationships and got to know some women who met for Bible study at her workplace. Through the group's leader, she made a clear decision for Christ and began to study the Bible more. She has grown a lot over these years, but lost contact with the leader and the group dissolved. She heard about this Bible church and decided to come. Meanwhile, she was thrilled to hear from her daughter in Michigan that she, too, was in a Bible study at her college, had come to know Christ, and was also getting to know the Bible.
 
I learned that Lucy planned to attend her daughter's graduation in Michigan two weeks later, and the two of them were then going back to their home area to see her parents. Before I left her that day, we talked through the gospel and how she might be able to share with her family. We prayed together for their trip and committed to talk soon after she arrives back in the states.
 
Her daughter will be here with her until graduate school starts in the fall. I so look forward to seeing them both and hearing about what God has done in their lives over the past weeks in Asia. I praise God for a divine appointment: that I chose that particular door at church and found a new friend who was looking for a friend. I am trusting God for many times with Lucy while God has her here over the next few years.